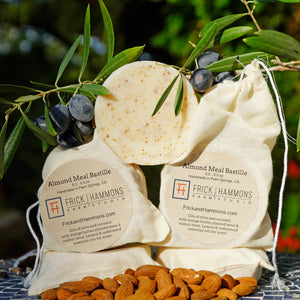 Almond Meal Bastille (Pack of 3 Bars)
Regular price
$21.00
Sale price
$24.00
Unit price
per
Our soaps are sold in packs of three bars to make shipping more economical for our online customers.  Bars are normally $8 each but we discount three bars for $21.
These generous bars are made with the saponified oils of: Olive and coconut with mango butter, almond meal & walnut meal (gently exfoliating) and lemon & cedar wood essential oils for refreshing scent.  We never use artificial fragrance oils (which are found in almost all commercial bar and liquid soaps); we only use natural essential oils derived from plants via distillation or cold pressing.
Almond meal is rich in Vitamin E, monounsaturated fatty acids, proteins, potassium and zinc, in addition to a number of other minerals and vitamins, which provide its moisturizing qualities.
All of our soaps are made using the traditional cold-process method so they retain the moisturizing properties of the natural ingredients and are cured for at least 4 weeks.

Through extensive research, we have developed pure, all natural base formulas of coconut and olive oils as well as other plant-based oils and butters to suit all ages and all skin types. Our bars create a rich and creamy, ultra-moisturizing lather while providing a deep, refreshing clean without any chemicals or preservatives.

In addition to these nourishing ingredients, we also use natural essential oils for fragrance as well as clays, activated charcoal and spirulina for color.
Short Video of Kyle Making Our Soaps
---
Share this Product
---